Ziggy The Alien Comes to Tea
Written by Jumble Educational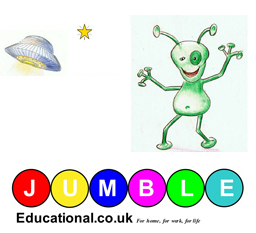 Clive Roberts is a teacher with a special interest in children with reading and writing difficulties. Trained as a primary school teacher, Clive now develops teaching materials and writes for a living.
John Hawke is an experience primary school teacher of long standing and a highly regarded illustrator and artist. He has had a number of exhibitions of his work and is particularly well known for dramatic pictures of landscapes and buildings.
---
Download
Ziggy the Alien Comes to Tea

PDF
Free
Contents
A 10 page symbol supported story with colourful hand drawn illustrations.

Ziggy lands his spaceship in a garden and meets two children who invite him in for tea. He thinks the food very strange.