Bryn's journey to owning his first home
InPrint 3 and Widgit Symbols support Bryn's everyday communication and the move to living in his own home.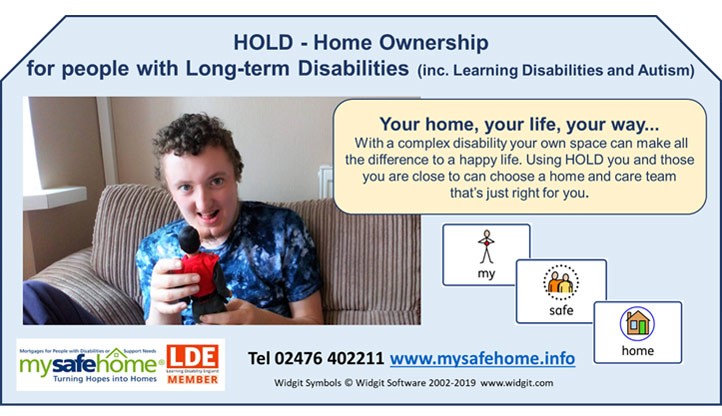 When Bryn (22) left school in July 2016 he wasn't in a very good place, with lots of stress, frustration and outbursts. His mum, Karen, now uses Widgit Symbols and Software (InPrint 3) to support Bryn with his everyday communication. Karen commented on the progress Bryn has made...
"With the InPrint 3 tools and good speech and language support, we have been able to help Bryn make amazing progress over the last few years.  Bryn is clever and knows what he wants but struggles with almost no language. Before, when we tried somewhere new or special with him, he often wouldn't get out the car, but now with a symbol-supported schedule he tries things.
With support from our wonderful adult Speech and Language therapist we created a word book – for partner aided communication. It took time, I made the symbols pull-off Velcro as Bryn was more familiar with picture exchange than pointing – the book grew with his ability to use it. Bryn can now ask to go to a specific swimming pool, or for 'laptop' or his paddling pool. But more than request - It can help explain 'no' and choices and this has helped him cope better. We are working on core vocabulary to really open up his communication. This approach really helped when he moved to his new house and care team. Bryn now uses the smartbox grid 3 communication software on a device with ongoing use of symbols in various ways.


Bryn loves water; swimming pools, jacuzzies and especially outdoor water - a local water park is like his second home over the summer. He also likes going to libraries and flicking through books. He really enjoys ripping leaflets - so we gather him interesting collections for him to study then rip. He is a bit of a daredevil and likes to go very high on swings and fair rides and visits an activity centre to climb, abseil and canoe."
Karen has recently used Widgit Symbols on a flyer to help promote a unique housing model known as HOLD: Home Ownership for people with Long-term Disabilities. HOLD have enabled Bryn to buy his own home and get set-up near to his mum.Karen commented: "We were lucky to have found out about HOLD and I am hoping to spread the word a bit. It feels only right to use Symbols to promote HOLD so that it is inclusive of people using alternative forms of communication."
Next Success Story - Safe Place Scheme