Maths Vocabulary Pack
Foundation Stage to Year 6

An extensive range of ready-made symbol resources to support maths lessons throughout a primary school. Visualise mathematical concepts with ease using the flashcards and vocabulary lists.
The vocabulary in this pack supports the programmes of study outlined in the National Curriculum for Key Stages one and two (published in 2014).
Pupils need to be able to read and understand this vocabulary if they are to make good progress in mathematics. Having this vocabulary supported by symbols, enables them to get a clearer picture of what each word or phrase means.
---
Download
Maths Vocabulary Pack


InPrint 3
& PDF
£39

Contents
The pack has been split into different mathematical areas and also by year group, from Early Years Foundation Stage through to Y6:
Geometry
Properties of shapes
Position and direction
Number
Number and place value
Addition and subtraction
Multiplication and division
Fractions (including decimals and percentages)
Ratio and Proportion
Algebra
Measurement
Length
Mass
Capacity
Time
Statistics
Read and draw tables and diagrams
Interpret graphs and charts
Calculate averages
---
Resources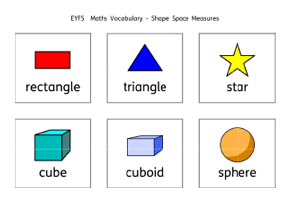 Display Flashcards
Large cards with the symbol and word. These are ideal for displaying the maths key vocabulary on the wall. An inclusive and interactive classroom environment can support maths progress.
Pupil Vocabulary Cards
These are large cards in three formats: symbol and word, symbol only and text only. These are great to introduce new words to pupils slowly and can also be used for maths games where the pupil has to match the symbol to the word.
Vocabulary Lists
These have the key maths vocabulary for that topic as text, with the symbol beside it, as a reminder of the concept. These lists are useful for students as a resource when doing maths work, to check a specific word, and can be printed for individual use.
Glossary
A glossary has been made to give an overview of the maths vocabulary being taught.