You are here:
Food Tastes Better Outdoors
Food Tastes Better Outdoors
A set of 9 recipes and 5 information sheets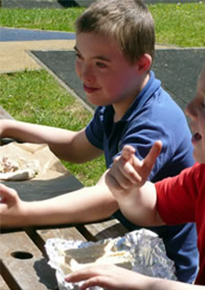 Food Tastes Better Outdoors is a project by the Sensory Trust to enable people with learning disabilities to prepare and package healthy food for picnics and discover suitable places to eat outdoors.
The project resulted in a series of activity packs containing suggestions for low-cost, easily accessible outings and instructions for putting together healthy food to take along.

---
Download
Food Tastes Better Outdoors

PDF
Free

Contents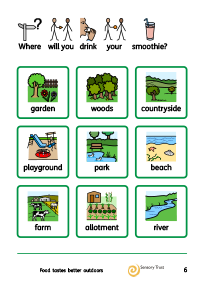 A set of 9 recipes and 5 information sheets developed as part of the Food Tastes Better Outdoors project from the Sensory Trust. The materials were developed in close consultation with people with learning disabilities who provided the ideas and tested them.
Food Tastes Better Outdoors enabled the students to develop their communication skills, build their confidence and express their individual creativity. The project allowed us to explore the ideas behind healthy eating and why it is important. Creating their individual recipes and contributing to group ones gave all the students a sense of ownership of the work.   
Recipes
Aaron's Cheese, Ham and Cucumber Baguette
Charlie's Banana Smoothie
Drew's Fruit Cocktail
Harley's Coleslaw
Lewis's Tuna and Cucumber Pita
Martin's Potato Salad
Max's Couscous
Melissa's Fruit Salad
Olivia's Cheese Sandwich
Helpful information
Are you ready to cook?
Picnic things
Kitchen equipment
Kitchen rules
Making picnic food