Chinese New Year
A set of books and activities based on Chinese New Year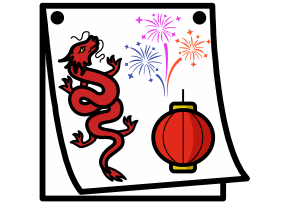 This symbol-supported pack will help children to understand the historical and cultural significance of Chinese New Year. Teaching materials include two books, available in both symbolised and text versions, which explain the origins of Chinese New Year and the ways in which it is celebrated.
Download
Chinese New Year

InPrint 3
£8.50
Chinese New Year - Sample

PDF
Free

Contents
Resources include a variety of Maths tasks and opportunities for writing, based on Key Stage 1 National Curriculum objectives. Comprehension activities are included to cover the Key Stage 1 reading content domains, which are assessed at the End of Key Stage 1. A differentiated set of colourful semantics resources is included to support children in developing their spoken and written language.
The pack also contains a variety of creative activities, including games, colouring sheets and instructions for how to create a lantern or stick puppet. A range of flashcards, word cards, wordmats and a glossary are also included.
Please note that the PDF pack contains a sample of the full set of resources.