Christmas Pack
Worksheets and activities from the Symbols Inclusion Project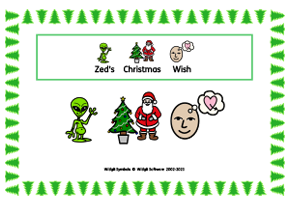 This pack contains a range of 21 activities based around the secular aspects of Christmas, suitable for children of different ages and abilities.
The more difficult activities are towards the end of the list below.
---
Download
Christmas Pack

InPrint 3
Free
Christmas Pack

PDF
Free

Contents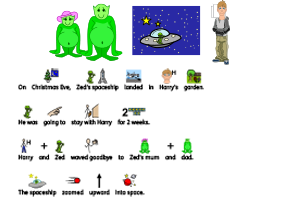 Zed's Christmas Wish Story - Symbol Version
A tale about an alien's Christmas with his friend Harry.
Zed's Christmas Wish Story - Text Version
A text only version of Zed's story.
Pairs
Christmas pictures for playing pairs or lotto. These are also useful for a range of other matching and memory games.
Different
Six screens with a row of objects with one picture that is different. Suitable for small group work or with an individual to do on screen. Point to the different one on each page. Alternatively print off in colour and laminate or place in a transparent document pouch.
Odd one out
Similar to 04 Different but with several lines of odd-one out sets per page. Suitable for printing as a paper based activity.
How many? 1-5
Counting activity numbers up to 5.
How many? 6-10
Counting activity numbers up to 10.
What's wrong?
A set of picture cards with something wrong on each picture. Use this in conversation with a child or print for children to mark up.
Board game
A traditional style board game for dice and counters.
Peppermint Creams
A recipe to make some delicious Peppermint Creams
Picture sequence Set A
Sets of sequencing pictures. Each set has 3 pictures. Print out a set of three for discussion and to place in the correct order.
Picture sequence Set B
Follow on from Picture Sequence Set A with 6 pictures per set.
Activity book
A set of 5 individual paper and pencil activities including dot to dot and spot the differences. This can be printed as single sheets, or from InPrint, printed as a booklet.
Letters to Santa
Various letter paper for writing.
Spot the difference
Pairs of pictures with slight differences. 10 pairs in totals.
Hidden words
Words that can be made from the letters in 'Christmas'. Symbols for the words are already shown with spaces for the child to write the letters.
Cupcake recipe
More delicious seasonal cooking.
Crossword
Christmas crossword fun.
Subtract
Subtraction activities, gradually getting more difficult.
Wordsearch
Christmas Wordsearch activity.
Tic-Tac-Toe
A Tic-Tac-Toe layout with Christmas pieces to cut out to play the game as an alternative to coloured counters (or noughts and crosses).